CHAIR & ORGANISER MESSAGE and Presentation ABSTRACT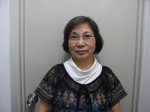 Chizuko YAMAGUCHI
Veterinary Inspector
Japan Animal Welfare Society (JAWS)

In 2011, a severe earthquake shook the whole of eastern Japan, resulting in devastation on a scale incomparable to that of any natural disaster that has previously occurred in the country's history. In addition to causing extensive damage across a wide area, the impact of four distinct kinds of disaster, namely earthquake, tsunami, fire and the Fukushima Daiichi nuclear power plant accident, overlapped in many places. This has made the prolongation of the disaster aftermath inevitable. Animals living with people were unable to avoid this huge earthquake and, while some were carried away by the tsunami, even those that survived had to endure several types of hardship. Some became separated from their owners, others remained constrained and unable to move, and some escaped together with their owners but as part of an evacuation.
In the face of extreme destruction and with over 20,000 people dead or missing, the human and animal survivors who experienced the earthquake and the tsunami have been overwhelmed by fears and worries. Both animals and people needed to snuggle up to their family members. In so doing, the animals provided many people with much-needed emotional support. Considering the importance of human-animal bonds, and based on the principles of animal welfare, it is necessary for cities, towns and villages across the nation to expand disaster countermeasures to cover all animals under the government's leadership. Coincidentally, 2012 is the year in which the National Diet is scheduled to deliberate the plan to revise the Act on Welfare and Management of Animals. It is my sincere hope that this revision will incorporate 'animal rescue in times of disaster' within national law.
During Workshop III, Chizuko Yamaguchi of the Japan Animal Welfare Society will first report on small animal rescue activities in the areas affected by the Great East Japan Earthquake and about the various problems faced by the rescuers during their activities. Next, Kazutoshi Arai, the Vice-Chair of the Japan Association of Zoos and Aquariums, will talk about the kinds of response that can be made to aid damaged zoos and aquariums, and about disaster prevention countermeasures. Then, Naoya Kawakami, who became a central figure in the administration that carried out animal rescue after the Niigata Prefecture Chuetsu Earthquake, will talk about the role of administration in times of disaster. After these talks, we will discuss how animal rescue should be better achieved during future emergencies based on experiences gained until now. We will also discuss about private-public cooperative countermeasures and the involvement of organizations at both national and local (city, town and village) government levels.
The Response by JAZA to Assist Zoos and Aquariums Impacted by the Great East Japan Earthquake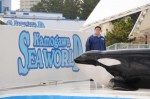 Kazutoshi ARAI,
Vice Chair, Japanese Association of Zoos and Aquariums, and Director of Kamogawa Sea World


The Japanese Association of Zoos and Aquariums (JAZA) was established in 1939 with the aim of promoting various activities and cooperative efforts between zoos and aquariums around Japan. In so doing, JAZA aims to contribute towards the enhancement of scientific technologies and culture developments. Currently, the JAZA membership consists of 153 institutions (87 zoos and 66 aquariums) across the country.
The Great East Japan Earthquake of March 11th, 2011, affected thirteen of JAZA's member institutions. Damage from the earthquake itself was not so great but major damage did occur due to water shortages, as caused by supply disruptions, and due to a lack of animal feed, caused by distribution interruptions. Furthermore, some aquariums did suffer complete power system failures and rearing water supply system failures due to inundation by tsunami. These failures resulted in the death of many fish and animals.
On the day of the earthquake JAZA immediately began to collect information about the extent of the damage and assess support needs, and we launched initial support measures such as transporting feed and providing emergency evacuation of animals.
We transported feed to 6 institutions ten times between March 18th and April 4th. Feed donated by other institutions, such as solid food, meat, fish, vegetables and fruits, was first collected from designated institutions and then land transported to the affected institutions using trucks designated as emergency vehicles, as well as by air and water. Individuals from many institutions and cooperating companies participated in this effort.
Five emergency evacuations of affected animals were carried out between March 16th and April 1st. We received a permit from the Ministry of the Environment to transport rare and internationally endangered species. Seven institutions housed 266 animals from 37 species including Steller sea lions, walruses, spotted seals, tufted puffins, giant salamanders, and white sturgeons. Among these was a pregnant spotted seal, which safely gave birth on April 7th at the institution to which it had been evacuated. The affected institutions began their restoration efforts, supported by JAZA member institutions and other related organizations, and all of them were able to resume their activities by July 15th.
We also solicited donations through our website and Facebook while our individual member institutions conducted their own fund drives. As a result, a total of 56,930,483 yen (35,470,318 yen from 1,119 donors in Japan and 21,460,165 yen from 35 donors abroad) was raised as of December 28th.
In order to provide appropriate support, we held a 'Meeting of Affected Zoos and Aquariums' twice during April within the affected prefectures to assess the degree of damage, support needed and to exchange information. We also set up a Donation Distribution Committee and discussed the principles and the details for distributing donations. By the end of July, the distribution method was finalized and the first donation presentations were made on August 8 and 9, with a second series being made between December 20 and December 26. The details were reported to the directors of all JAZA member institutions and announced via our website and on Facebook.
We also received tremendous support from overseas organizations. JAZA Chairman Shigeyuki Yamamoto expressed our gratitude for this when he presented the details about our earthquake support activities, with a status report on the affected institutions, at the 66th Annual Conference of the World Association of Zoos and Aquariums (WAZA) on October 4th, 2011 in Prague.
I wish to use this abstract to also express my sincere gratitude for all the support and cooperation received from so many people in helping us respond to the earthquake.
Animal Rescue Activities after the 2004 Niigata Chuetsu Earthquake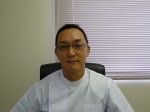 Naoya, KAWAKAMI, Director,
Niigata Prefecture Shibata Meat Inspection Center


I would like to express my deepest sympathies to those who have suffered from the Great East Japan Earthquake and my heartfelt condolences to the victims of the tragedy. In Niigata too, in 2004 we suffered from the Niigata Prefecture Chuetsu Earthquake which inflicted an unprecedented disaster. In Yamakoshi Village (current Nagaoka City), many houses were destroyed and the entire village completely cut off due to severed roads. All the villagers had to be evacuated to Nagaoka City. Many of them were not able to take their pets with them and those that did manage to escape with their animal had to live apart from them because pets were not allowed in the shelters. But, as a result, there was subsequent action to protect the bond between pets and their owners; the Niigata Prefectural Government sent officials by helicopter to Yamakoshi Village to rescue left-behind animals; the Veterinarian Association then provided medical care and shelter to affected animals; and the Niigata Society for the Prevention of Cruelty to Animals (Niigata SPCA) offered help to those wanting to live with their pets.
These activities were conducted through the Chuetsu Earthquake Animal Rescue Headquarters which was established with the support of the Ministry of Environment and the Headquarters for the Relief of Animals in Emergencies.
Based on the experience gained from the above activities, I authored a section about protection measures for pet animals as part of the Niigata Prefecture Local Disaster Prevention Plan, which was drawn up after the earthquake. The plan stipulates the role of pet owners, the prefectural government, the veterinary medical association, Niigata SPCA, municipal governments, and Animal Rescue Headquarters. Thanks to this, we were able to immediately launch animal rescue activities when the Chuetsu-oki Earthquake occurred in 2007.